Chicken Shashlik | Chicken Shashlik With Fried Rice
Chicken Shashlik | Chicken Shashlik With Fried Rice
Research Content
Chicken Shashlik: One of the best combo in food is Chicken Shashlik with Fried Rice. So here is the complete Chicken Shashlik Recipe for weekend to try out.
DIRECTIONS
If you are looking for some delicious recipes which are easy to make then look no further. SooperChef gives you a variety of recipes with easy step by step procedures which makes it easy to follow. Tried and tested recipes which every foodie will love to try.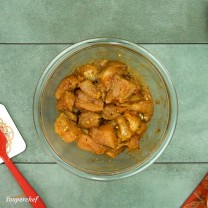 1 .
In a bowl add ginger garlic paste, salt, soy sauce, black pepper, sugar, paprika, oil, crushed chili and mustard paste. Mix all them well and marinate chicken cubes in it for 30 minutes.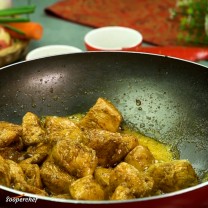 2 .
In separate pan heat oil, add capsicum, tomato, onion, salt and black pepper in it. Sauté all the veggies for 2 to 3 minutes and set aside.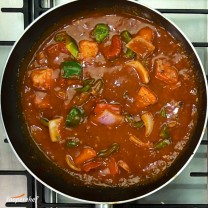 3 .
In a pan heat oil and then sauté garlic in it. Then add half of the marinated chicken in it and cook for 7 to 8 minutes. Then add ketchup, tomato paste, black pepper, chili flakes, salt, hot sauce, worcestershire sauce and mix well. Add water and cook for 5 to 6 minutes or until you reach your desired consistency, then add saute veggies and mix it.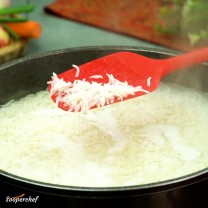 4 .
In a pan bring water to boil, add rice, salt, oil and cook until 80% done.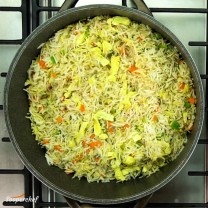 5 .
In another pan heat oil and sauté garlic in it. Then add carrot, capsicum and cook for a minute.Then add boiled rice, black pepper, soy sauce, food color, omelet and spring onion. Cook for 2 to 3 minutes and your rice are ready.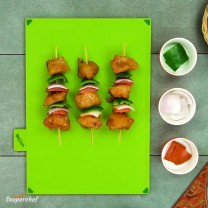 6 .
Take wooden skewers and thread remaining marinated chicken and veggies in it.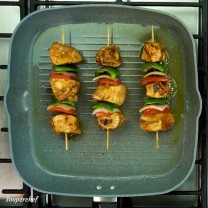 7 .
In a grill pan heat oil and cook chicken skewers for each side for 6 to 7 minutes or until done.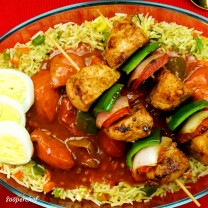 8 .
In a platter dish out rice, pour sauce on top and place chicken skewers on it and serve.
DIRECTIONS
اگر آپ مزیدار اور آسان ریسپیز ڈھونڈ رہے ہیں تو آپ کو کہیں اور جانے کی ضرورت نہیں۔ سوپر شیف آپ کو مختلف اور آسان ریسپیز فراہم کرتا ہے جو کہ باآسانی بنائی جا سکتی ہیں۔ آزمودہ ریسپیز جو کہ ہر کھانے والے کی پسند بنے۔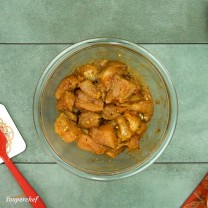 1 .
ایک باؤل میں ادرک لہسن پیسٹ، نمک، سویا سوس، کالی مرچ، چینی، پیپریکا، کھانے کا تیل، کٹی لال مرچ اور مسٹرڈ پیسٹ ڈال کر تمام اجزا اچھی طرح مکس کرکے چکن اس میں تیس منٹ کے لئے میرینیٹ کر لیں۔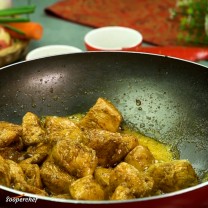 2 .
ایک دوسرے پین میں کھانے کا تیل گرم کر کے اس میں لہسن ڈال کر ایک منٹ کے لئے بھون لیں۔اب اس میں آدھا میرینیٹ کیا ہوا چکن ڈالیں اور سات سے آٹھ منٹ کے لئے پکائیں۔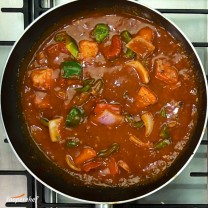 3 .
پھر اس میں کیچپ، ٹماٹروں کی پیسٹ، کالی مرچ، کٹی لال مرچ، نمک، ہاٹ سوس اور ووسٹر شائر سوس ڈال کر اچھی طرح مکس کرلیں۔اب اس میں پانی ڈال کر پانچ سے چھ منٹ کے لئے پکائیں اور سبزیاں ڈال کر ایک منٹ کے لئے بھون لیں۔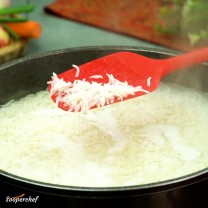 4 .
ایک پین میں پانی، نمک، چاول اور کھانے کا تیل ڈال کرچاول اسی فیصد پکنے تک پکائیں۔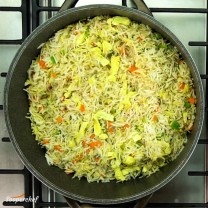 5 .
اب ایک دوسرے پین میں کھانے کا تیل گرم کر کے اس میں لہسن ڈال کر بھون لیں۔پھر اس میں گاجریں اور شملا مرچ ڈال کر ایک منٹ تک پکائیں۔اب اس میں ابلے ہوئے چاول کالی مرچ، سویا سوس، کھانے کا رنگ، انڈہ اور پیاز ڈال کر دوسے تین منٹ پکائیں۔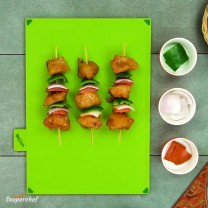 6 .
ایک لکڑی کی سیخ کر اس پر بچا ہوا چکن اور سبزیاں لگائیں۔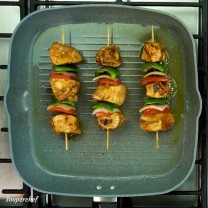 7 .
اب ایک گرِل پین میں کھانے کا تیل گرم کر کے چکن کی سیخوں کی دونوں سائیڈوں سے اچھی طرح چھ سے سات منٹ اچھی طرح پکائیں۔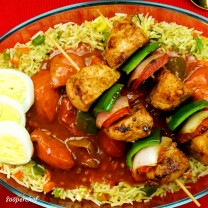 8 .
پھر ایک پلیٹر میں چاول ڈال کر تیار کی ہوئی سوس ڈالیں اور تیار کیا ہوا چکن رکھیں۔