Peri Peri Chicken with Rice Recipe
Peri Peri Chicken with Rice Recipe
Peri-Peri Chicken with Rice is a delicious and scrumptious Rice Platter recipe, made with Guard Rice, that you need to try today. It's perfect to serve to your guests and family. Try out this mouth-watering Peri Peri Chicken with Rice and let us know how it turned out.
Ingredients
Ingredients for Peri Peri Chicken:
Ingredients for Rice:
DIRECTIONS
If you are looking for some delicious recipes which are easy to make then look no further. SooperChef gives you a variety of recipes with easy step by step procedures which makes it easy to follow. Tried and tested recipes which every foodie will love to try.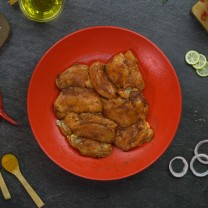 1 .
In a bowl add chicken pieces, paprika, garlic powder, black pepper, cumin powder, salt, vinegar and mix well. Marinate the chicken for 15-20 minutes.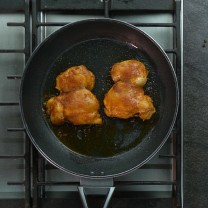 2 .
In a pan heat oil and add marinated chicken, cook each side for 2-3 minutes.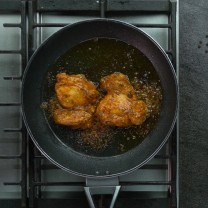 3 .
Now pour Peri Peri Sauce on the chicken and cover with lid. Cook for 4-5 minutes or until chicken is done. Your Peri Peri Chicken is ready. Set aside.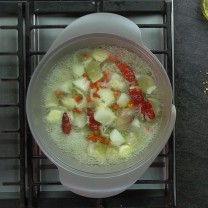 4 .
In a pan heat water and add red chilies, dried red chilies, garlic cloves, onion and boil for 10-15 minutes.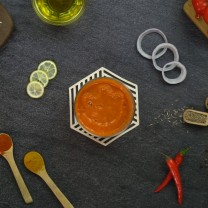 5 .
Transfer the veggies and water into blender and blend until smooth paste is formed. Your Peri Peri Sauce is ready. Set aside.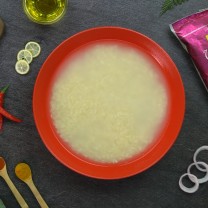 6 .
In a bowl add Guard Basmati Rice and water. Soak for 20-25 minutes.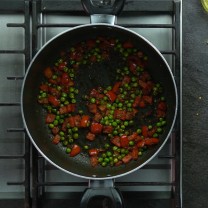 7 .
In a pot heat oil and add garlic and cook for a minute. Now add capsicum, peas and cook for 2-3 minutes.Now add paprika powder, red chili powder, salt, turmeric powder, red chili flakes, tomato paste, oregano, and mix well.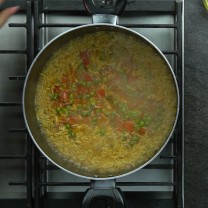 8 .
Add chicken stock and bring it to boil. Now add soaked Guard Basmati Rice and cook until 80% stock dries out.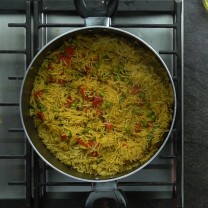 9 .
Cover with lid and steam over low flame for 10 minutes. Your Rice is ready.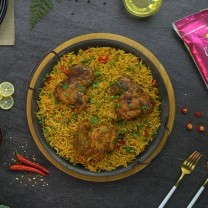 10 .
Serve it with Peri Peri Chicken and enjoy.
DIRECTIONS
اگر آپ مزیدار اور آسان ریسپیز ڈھونڈ رہے ہیں تو آپ کو کہیں اور جانے کی ضرورت نہیں۔ سوپر شیف آپ کو مختلف اور آسان ریسپیز فراہم کرتا ہے جو کہ باآسانی بنائی جا سکتی ہیں۔ آزمودہ ریسپیز جو کہ ہر کھانے والے کی پسند بنے۔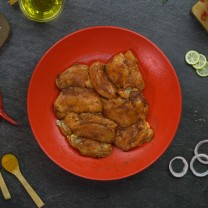 1 .
پیری پیری چکن ایک باؤل میں چکن کے ٹکڑے، پیپریکا، لہسن پاؤڈر، کالی مرچ، زیرہ پاؤڈر، نمک، سرکہ ڈال کر اچھی طرح مکس کرلیں اور پندرہ سے بیس منٹ میرینیٹ ہونے کے لئے رکھ دیں۔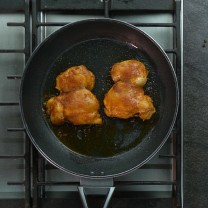 2 .
اب ایک پین میں کھانے کا تیل گرم کرکے اس میں میرینیٹ کیا ہوا چکن ڈال کر ہر سائیڈ سے دو سے تین منٹ پکا لیں۔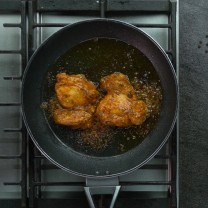 3 .
پھر اس پر پیری پیری سوس ڈالیں اور ڈھکن سے ڈھانپ کر چار سے پانچ منٹ تک پکائیں یا جب تک چکن اچھی طرح پک جائے۔ پیری پیری چکن تیار ہے۔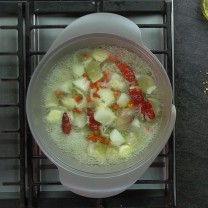 4 .
پیری پیری سوس بنانے کے لئے ایک پین میں پانی گرم کریں اور اس میں سرخ مرچ، سوکھی لال مرچ، لہسن کی جویں اورپیاز ڈال کر دس سے پندرہ منٹ تک ابالیں۔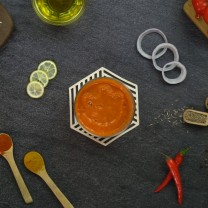 5 .
اب ایک بلینڈ ر میں سبزیاں اور پانی ڈال کر اچھی طرح بلینڈ کر لیں۔ پیری پیری سوس تیار ہے۔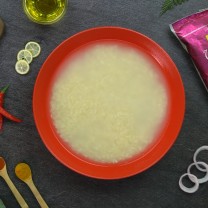 6 .
چاول بنانے کے لئے ایک باؤل میں گارڈ باسمتی چاول بیس سے پچیس منٹ بھگو کر رکھ دیں۔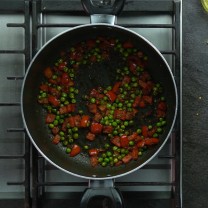 7 .
اب ایک پین میں کھانے کا تیل گرم کرکے اس میں لہسن ڈال کر ایک منٹ تک پکائیں۔ اب شملہ مرچ، مٹر ڈال کر دو سے تینمنٹ تک پکائیں۔ اب اس میں پیپریکا پاؤڈر، لال مرچ پاؤڈر، نمک، ہلدی پاؤڈر، لال مرچ، ٹماٹر کا پیسٹ، اوریگانو ڈال کر اچھی طرح مکس کرلیں۔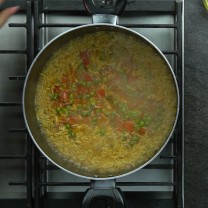 8 .
اب اس میں چکن یخنیڈال کرابلنے دیں اور پھر اس میں بھگوئے ہوئے گارڈ باسمتی چاول ڈال کر یخنی اسی فیصد خشک ہونے تک پکائیں۔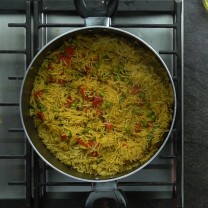 9 .
ڈھکن سے ڈھانپیں اور ہلکی آنچ پر 10 منٹ تک بھاپ لیں۔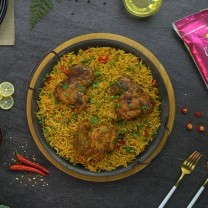 10 .
مزیدار پیری پیری چکن وِد رائس ریسپی تیار ہے۔