Pita Pockets Recipe (Kurkure Jhatpat Jugaar)
Pita Pockets Recipe (Kurkure Jhatpat Jugaar)
Spice up your Iftar with #KurkureJhatpatJugaar
Presenting Karrak Pita Pockets! This spicy and mouthwatering recipe includes deliciously seasoned chicken strips, packed together with rich and assorted veges inside an airy pita dough pocket, filled and topped with Kurkure Red Chilli Jhatka for that extra flavorful Karrak! Try it now!
Ingredients
Ingredients for Pita Bread:
Ingredients for Chicken:
DIRECTIONS
If you are looking for some delicious recipes which are easy to make then look no further. SooperChef gives you a variety of recipes with easy step by step procedures which makes it easy to follow. Tried and tested recipes which every foodie will love to try.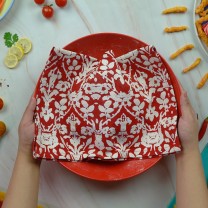 1 .
In a large bowl, whisk together the flour, salt, sugar, and yeast. Add water, olive oil and knead a soft dough. Cover with damp cloth and let it rest until double in size.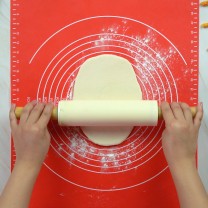 2 .
Take the prepared dough and divide it into 6 equal parts. Make a dough ball of each and roll them down into flat circle.
3 .
Transfer it onto preheated pan and cook each side until fluffy and golden brown.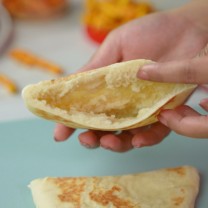 4 .
Take off the pan, cut into half and make it hollow from center like pocket. Your pita pockets are ready.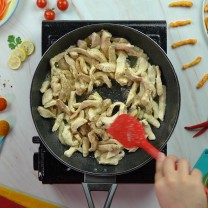 5 .
In a preheated pan, add oil. Add chicken and cook until it changes color, add salt, black pepper, onion powder, garlic powder, and cook for 2-3 minutes over high flame.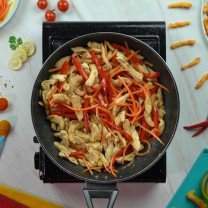 6 .
Add carrots, capsicum, lemon juice and toss for a minute over high flame. Take off the flame and keep aside.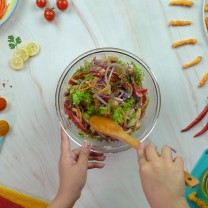 7 .
Now, mix prepared chicken, cucumber, onion, lettuce, cabbage in a bowl and keep aside.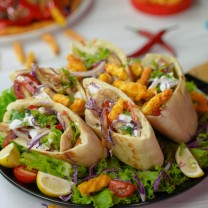 8 .
Fill in with the prepared filling and garlic mayo sauce in pita pockets, and top with kurkure red chili jhatka.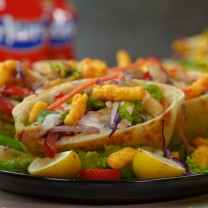 9 .
Your Karrak Pita Pockets are ready.
DIRECTIONS
اگر آپ مزیدار اور آسان ریسپیز ڈھونڈ رہے ہیں تو آپ کو کہیں اور جانے کی ضرورت نہیں۔ سوپر شیف آپ کو مختلف اور آسان ریسپیز فراہم کرتا ہے جو کہ باآسانی بنائی جا سکتی ہیں۔ آزمودہ ریسپیز جو کہ ہر کھانے والے کی پسند بنے۔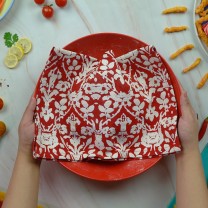 1 .
پیٹا بریڈ بنانے کے لئے ایک بڑے باؤل میں، میدہ، نمک، چینی اور خمیر کواچھی طرح مکس کر لیں۔ اب اس میں پانی اور زیتون کا تیل ڈال کر نرم ڈو گوندھ لیں۔اب گیلے کپڑے سے ڈھک کر سائز میں دوگنا ہونے تک سائیڈ پر رکھ دیں۔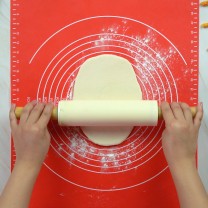 2 .
اب تیار کی ہوئی ڈو کو چھ برابر حصوں میں کاٹ لیں اور پیڑے بنا کر گول شکل میں بیل لیں۔
3 .
پھر اسے پہلے سے گرم پین میں ہر سائیڈ سے گولڈن براؤن ہونے تک پکا لیں۔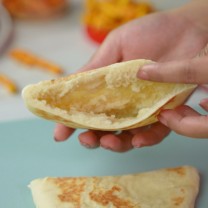 4 .
اب اسے پین سے اتار کر اس کے درمیان جیب کی طرح جگہ بنائیں۔پیٹا پاکٹس تیار ہیں۔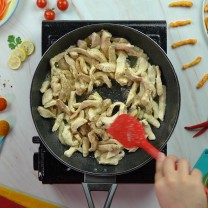 5 .
چکن بنانے کے لئے پہلے سے گرم پین میں کھانے کا تیل ڈال کر اس میں چکن ڈال کر رنگ تبدیل ہونے تک پکائیں۔اب اس میں نمک، کالی مرچ، پیاز پاؤڈر اور لہسن پاؤڈر ڈال کر تیز آنچ پردو سے تین منٹ تک پکائیں۔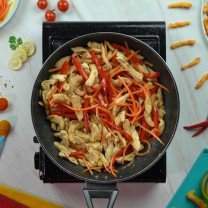 6 .
اب اس میں گاجر، شملہ مرچ اور لیموں کا رس ڈال کر ایک منٹ کے لیے تیز آنچ پر پکائیں۔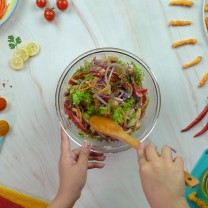 7 .
فلنگ بنانے کے لئے ایک باؤل میں تیار چکن، کھیرا، پیاز،سلاد پتا اور بند گوبھی ڈال کر اچھی طرح مکس کر کے سائیڈ پر کھ دیں۔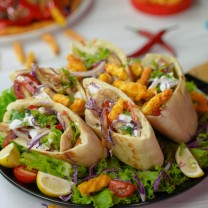 8 .
اب تیار کئے ہوئے پیٹا پاکٹس میں تیار کی ہوئی فلنگ اور مایو گارلک سوس ڈال کر کُر کُر ے ڈالیں۔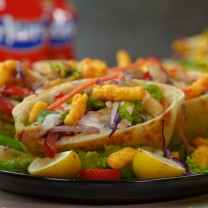 9 .
مزیدار پیٹا پاکٹس تیار ہیں۔