Schezwan Noodles Sandwich Recipe
Schezwan Noodles Sandwich Recipe
Schezwan Noodles Sandwich is a unique and different sandwich recipe made simply with noodles. Make this delicious sandwich by adding a twist of Schezwan Sauce and kill your hunger cravings. Make this appetizing Schezwan Noodles Sandwich and do not forget to share your feedback with us.
Ingredients
Ingredients for boiled noodles:
Ingredients for red chili paste:
Ingredients for Schezwan Sauce:
Ingredients for Noodles Filling:
Ingredients for assembling:
DIRECTIONS
If you are looking for some delicious recipes which are easy to make then look no further. SooperChef gives you a variety of recipes with easy step by step procedures which makes it easy to follow. Tried and tested recipes which every foodie will love to try.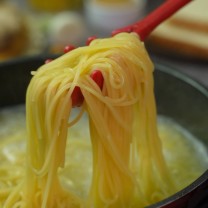 1 .
In a pot heat water and add oil, salt and bring it to a boil. Add spaghetti and boil until 80% done. Strain and set aside.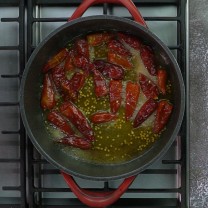 2 .
In a pan heat water and add dry red chilies. Boil until water remains half in quantity and chilies get soft.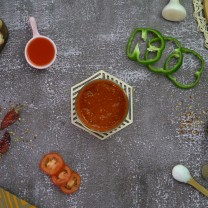 3 .
Transfer the boiled chilies with water into blender and blend until smooth paste has formed. Set aside.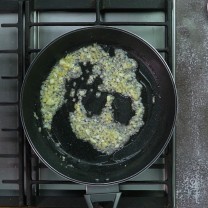 4 .
In a pan heat oil and add ginger and garlic, cook for a minute. Add onion and cook until translucent.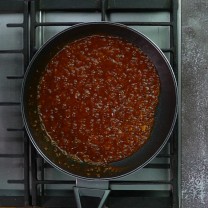 5 .
Now add red chili paste and simmer over low flame for a minute. Add ketchup, soy sauce, brown sugar, vinegar, salt and cook until desired consistency has reached. Your schezwan sauce is ready.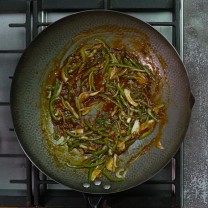 6 .
In a wok heat oil and add garlic, cook for a minute. Add schezwan sauce, soy sauce, ketchup, capsicum, onion and cook for 2 minutes.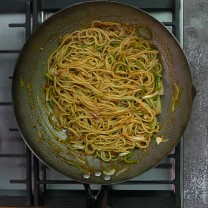 7 .
Add boiled noodles, black pepper, salt and toss over high flame for a minute. Your Noodles Filling is ready.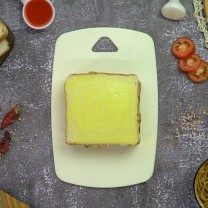 8 .
Take a bread slice and spread schezwan sauce on it, add a layer of noodles, cover it with another bread slice and brush butter on top of slice.
9 .
Transfer the sandwich on preheated pan, brush butter on the other side of sandwich too and cook each side until golden brown in color.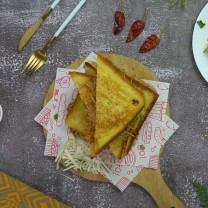 10 .
Your Noodles Sandwich is ready. Serve and enjoy.
DIRECTIONS
اگر آپ مزیدار اور آسان ریسپیز ڈھونڈ رہے ہیں تو آپ کو کہیں اور جانے کی ضرورت نہیں۔ سوپر شیف آپ کو مختلف اور آسان ریسپیز فراہم کرتا ہے جو کہ باآسانی بنائی جا سکتی ہیں۔ آزمودہ ریسپیز جو کہ ہر کھانے والے کی پسند بنے۔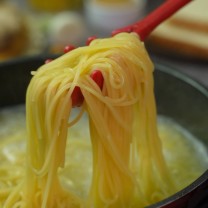 1 .
ابلے ہوئے نوڈلزبنانے کے لئے ایک باؤل میں پانی گرم کرکے اس میں کھانے کا تیل اورنمک ڈال کر ابال لیں۔اب اس میں سپگیٹی ڈال کر اسی فیصد پکنے تک ابال لیں اور چھان کر سائیڈ پر رکھ دیں۔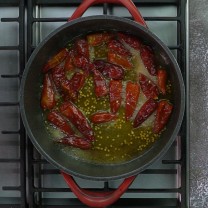 2 .
ریڈ چِلی پیسٹ بنانے کے لئے ایک پین میں پانی گرم کرکے اس میں خشک سرخ مرچیں ڈال کر نرم ہونے تک پکائیں۔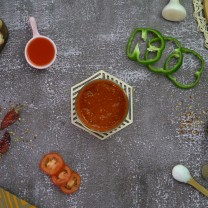 3 .
اب ابلی ہوئی مرچوں کو پانی کے ساتھ بلینڈر میں ڈال کر اچھی طرح بلینڈ کر کے سائیڈ پر رکھ دیں۔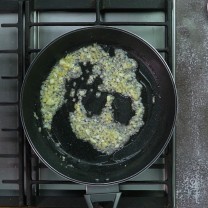 4 .
شیزوان سوس بنانے کے لئے ایک پین میں کھانے کا تیل گرم کرکے اس میں ادرک اور لہسن ڈال کر ایک منٹ تک پکائیں۔ اب اس میں پیاز ڈال کر کچھ دیر پکا لیں۔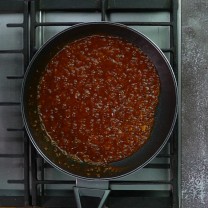 5 .
اب اس میں ریڈ چِلی پیسٹ ڈال کر ہلکی آنچ پر ایک منٹ تک پکائیں۔پھر اس میں کیچپ، سویا سوس، براؤن شوگر، سرکہ اورنمکڈا ل کر کچھ دیر پکائیں۔شیزوان سوس تیار ہے۔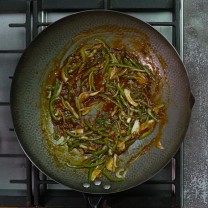 6 .
نوڈلزفلنگ بنانے کے لئے ایک پین میں کھانے کا تیل گرم کرکے اس میں لہسن ڈال کر ایک منٹ تک پکائیں۔اب اس میں شیزوان سوس، سویا سوس، کیچپ، شملہ مرچ اورپیاز ڈال کر دو منٹ تک پکائیں۔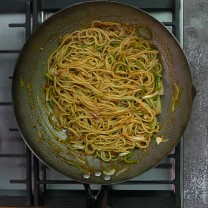 7 .
اب اس میں ابلے ہوئے نوڈلز، کالی مرچ اورنمک ڈال کر ایک منٹ پکا لیں۔ نوڈلز فلنگ تیار ہے۔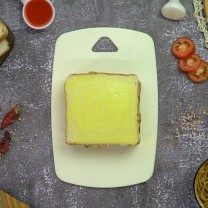 8 .
اسمبلنگ کے لئے ایک بریڈ سلائس لیں اور اس پر شیزوان سوس پھیلائیں۔اب اس پر نوڈلز رکھ کر دوسرا بریڈ سلائس رکھیں اور اس پربرش سے مکھن لگائیں۔
9 .
اب اس سینڈ وچ کو پہلے سے گرم پین میں رکھ کر ہر سائیڈ پر برش سے مکھن لگائیں۔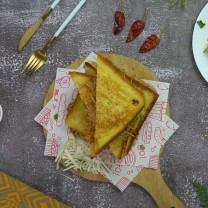 10 .
مزیدارشیزوان نوڈلز سینڈ وچ تیار ہے۔