Spicy Fried Fish Recipe
Spicy Fried Fish is our winter's comfort food that is here to tempt you with every bite. It's one of the finest Fried Fish recipes that's delicious in taste when made with Shan Ginger Garlic Paste. Serve this Scrumptious Spicy Fried Fish with tangy tamarind sauce and double the joy of your meal. Do not forget to share your feedback with us.

Ingredients
Ingredients for Soaking:
Ingredients for Marination:
Ingredients for tamarind sauce:
DIRECTIONS
If you are looking for some delicious recipes which are easy to make then look no further. SooperChef gives you a variety of recipes with easy step by step procedures which makes it easy to follow. Tried and tested recipes which every foodie will love to try.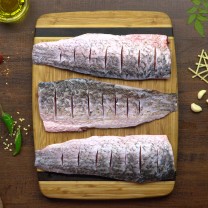 1 .
Take the fish fillet and place cuts with knife on side of the fillets.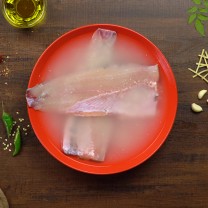 2 .
In a bowl, add water, salt, Shan ginger garlic paste, and fish. Soak for 15 minutes to eliminate the smell of fish.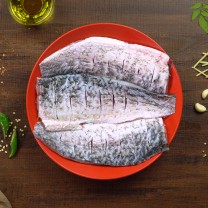 3 .
Now, take the fish fillets out of the water and pat dry them with kitchen papers. Keep aside for 1 hour so that excessive water dries out.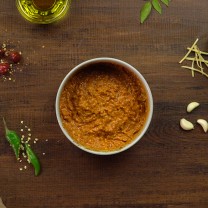 4 .
In a large bowl add flour, chili flakes, salt, white pepper, turmeric, paprika, ginger garlic paste, green chili paste, crushed coriander, lemon juice, egg, tamarind pulp and orange food color. Whisk together until well combined. Marinade must be thick, not runny.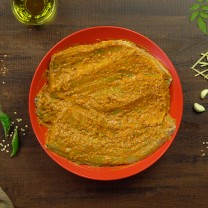 5 .
Coat the fish fillets in the marinade and let it marinate for 30mins-2hr.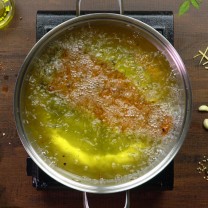 6 .
Heat oil in a deep frying pan and deep fry your marinated fish fillets until cooked through and crispy from the outside. Your spicy fried fish is ready.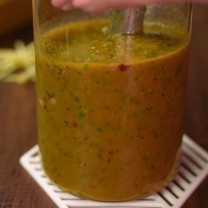 7 .
In a blender, add apricot, tamarind pulp, sugar, salt, red chili flakes, green chilies, onion, mint leaves, coriander and water. Blend until smooth and runny texture has obtained.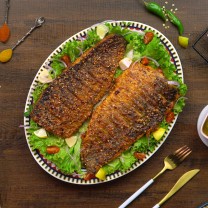 8 .
Your tamarind sauce is ready, serve it with Spicy Fried Fish and enjoy.
DIRECTIONS
اگر آپ مزیدار اور آسان ریسپیز ڈھونڈ رہے ہیں تو آپ کو کہیں اور جانے کی ضرورت نہیں۔ سوپر شیف آپ کو مختلف اور آسان ریسپیز فراہم کرتا ہے جو کہ باآسانی بنائی جا سکتی ہیں۔ آزمودہ ریسپیز جو کہ ہر کھانے والے کی پسند بنے۔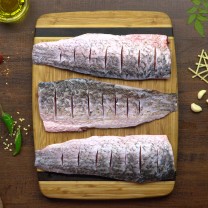 1 .
فِش بنانے کے لئے ایک باؤل میں فِش فلٹس لے کر اس پر چھڑی سے نشان لگائیں۔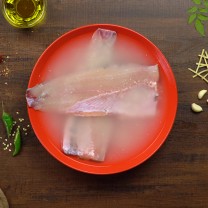 2 .
اب ایک باؤل میں پانی، نمک، ادرک لہسن پیسٹ اور مچھلی ڈال کر پندرہ منٹ بھگو کر رکھ دیں۔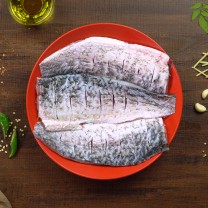 3 .
پھر بھگوئی ہوئی مچھلی فلٹس کو پانی سے نکا ل کر کچن پیپر سے اچھی طرح خشک کر لیں اور ایک گھنٹہ سائیڈ پر رکھ دیں۔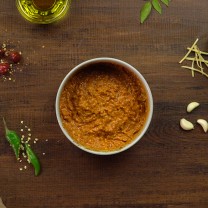 4 .
اب ایک بڑے باؤل میں میدہ، کٹی سرخ مرچیں، نمک، سفید مرچیں، ہلدی، پیپریکا، ادرک لہسن پیسٹ م سبز مرچ پیسٹ، کٹا ہوا دھنیا، لیموں کا رس، انڈہ، مالٹا کھانے کا رنگ اور املی کا گودا ڈال کر اچھی طرح مکس کر لیں۔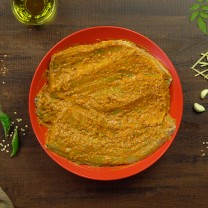 5 .
فِش فلٹس کو اس میرینیشن میں اچھی طرح کوٹ کر لیں اور تیس سے دو گھنٹے میرینیٹ ہونے کے لئے رکھ دیں۔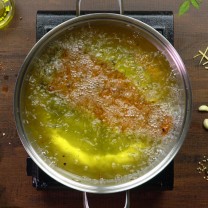 6 .
اب ایک فرائی پین میں کھانے کا تیل گرم کرکے میرینیٹ کئے ہوئے فِش فلٹس کو اچھی طرح پکنے تک فرائی کر لیں۔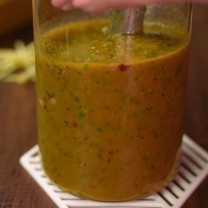 7 .
املی چٹنی بنانے کے لئے ایک بلینڈ ر میں خوبانی، املی کا گودا، چینی، نمک، کٹی سرخ مرچیں، سبز مرچیں، پیاز، پودینے کے پتے، دھنیا اور پانی ڈال کر اچھی طرح بلینڈ کر لیں۔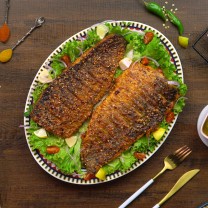 8 .
سوس تیار ہے تیار کی ہوئی سپائسی فرائیڈ فِش کے ساتھ سرو کریں۔