Cajun Pasta with Nuggets Recipe by SooperChef
Cajun Pasta with Nuggets Recipe by SooperChef
Craving for a delicious twist on pasta night? Our Cajun pasta made with K&N's Haray Bharay Nuggets will definitely hit the spot. Try out this recipe and do let us know your feedback.
Ingredients
Ingredients for Cajun Pasta with Nuggets
Ingredients for Cajun Seasoning
Ingredients for sauteed vegetables
DIRECTIONS
If you are looking for some delicious recipes which are easy to make then look no further. SooperChef gives you a variety of recipes with easy step by step procedures which makes it easy to follow. Tried and tested recipes which every foodie will love to try.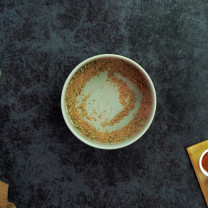 1 .
In a small bowl, combine all the ingredients: paprika, garlic powder, onion powder, dried oregano, dried basil, Red chili powder, black pepper, and salt. Mix well until all the ingredients are thoroughly combined.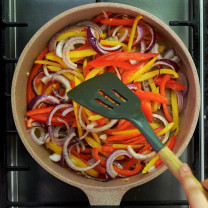 2 .
Heat oil in a pan, Saute chopped garlic for 30 seconds. Add sliced onions, and sliced red and yellow capsicum, Stir fry for 2-3 minutes and set aside.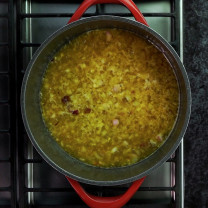 3 .
Heat butter in a pan and add oil over medium heat. Add finely chopped onion, minced garlic, and saute for a min.Pour in water and add K&N's stock and cook for 3-4 mins.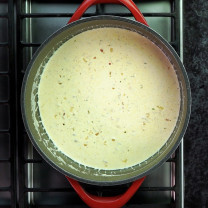 4 .
Now add heavy cream and stir in the Cajun seasoning, paprika, salt and Stir well to combine and cook for 2-3 mins.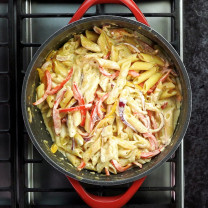 5 .
At this point, add cooked pasta and suited vegetables to the skillet and gently toss it in the sauce until well coated.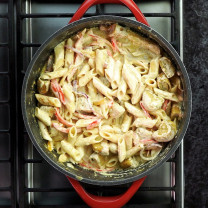 6 .
Fry K&N's Haray Bharay Nuggets as per instructions on the pack and cut into halves.Add Haray Bharay Nuggets into the pasta sauce and mix.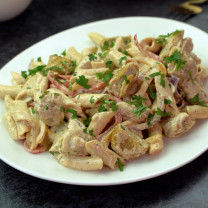 7 .
Cajun Pasta with Nuggets is ready garnish it with fresh chopped parsley.
DIRECTIONS
اگر آپ مزیدار اور آسان ریسپیز ڈھونڈ رہے ہیں تو آپ کو کہیں اور جانے کی ضرورت نہیں۔ سوپر شیف آپ کو مختلف اور آسان ریسپیز فراہم کرتا ہے جو کہ باآسانی بنائی جا سکتی ہیں۔ آزمودہ ریسپیز جو کہ ہر کھانے والے کی پسند بنے۔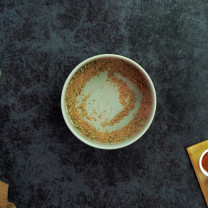 1 .
کیجون سیزننگ بنانے کے لئے ایک باؤل میں پیپریکا، لہسن پاؤڈر، پیاز پاؤڈر، خشک اوریگانو، خشک تلسی، لال مرچ پاؤڈر، کالی مرچ، اور نمکڈال کر اچھی طرح مکس کرلیں۔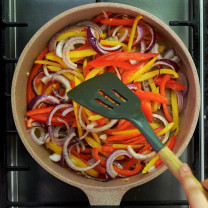 2 .
کیجون پاستا بنانے کے لئے ایک پین میں تیل گرم کرکے لہسن کو تیس سیکنڈ تک بھونیں پھر اس میں کٹی ہوئی پیاز، اور کٹی ہوئی سرخ اور پیلی شملہ مرچ ڈال کردو سے تینمنٹ تک بھونیں اور ایک سایڈ پر رکھ دیں۔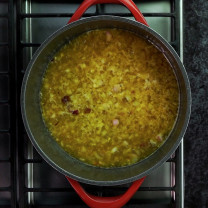 3 .
اب ایک پین میں مکھن گرم کریں اور درمیانی آنچ پر کھانے کا تیل ڈالیں پھر باریک کٹی ہوئی پیاز، کٹا لہسن ڈال کر ایک منٹ تک بھونیں پھرپانی ڈالیں اور K&N کا سٹاک ڈال کر تین سے چارمنٹ تک پکائیں۔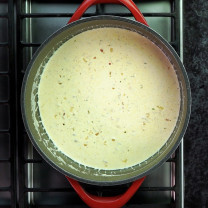 4 .
پھر اس میں ہیوی کریم ڈال کر کیجون مصالحہ، پیپریکا اور نمک ڈال کر اچھی طرح مکس کریں اور دو سے تینمنٹ تک پکائیں۔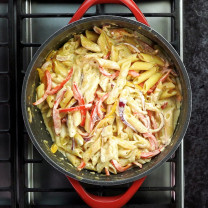 5 .
اب پکا ہوا پاستا اور ساتے سبزیاں کڑاہی میں ڈال کراچھی طرح سوس میں ٹوس کریں۔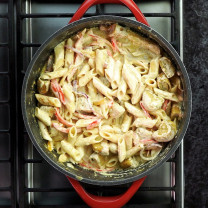 6 .
پھر K&N'sکے ہرے بھرے نگٹس کو پیک پر دی گئی ہدایات کے مطابق فرائی کریں اور آدھے حصے میں کاٹ لیں۔ پاستا سوس میں ہرے بھرے نگٹس شامل کریں اور مکس کریں۔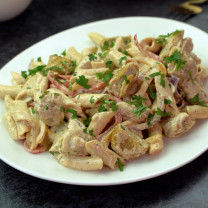 7 .
کیجون پاستا تیار ہے۔ تازہ پارسلے سے گارنش کریں۔