Easy Mango Dessert Recipe by SooperChef
Easy Mango Dessert Recipe by SooperChef
Try this delicious and sublime Mango Dessert on any occasion. This refreshing mango delight will cheer up your mood with its amazing flavor. Try this and share your feedback with us.
Ingredients
Ingredients for Easy Mango Dessert
DIRECTIONS
If you are looking for some delicious recipes which are easy to make then look no further. SooperChef gives you a variety of recipes with easy step by step procedures which makes it easy to follow. Tried and tested recipes which every foodie will love to try.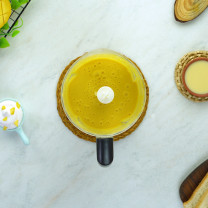 1 .
In a blender add mangoes milk, condensed milk and blend it well and make a puree.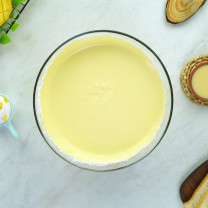 2 .
In a bowl add whipping cream and beat it until stiff peaks form. Reserve some cream for later use and Add mango puree in it and mix it well.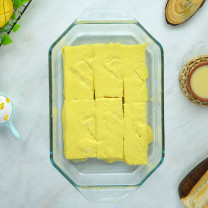 3 .
Take bread slices cute the edges and dip them in the mango mixture.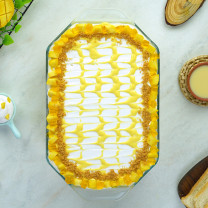 4 .
Place the serving dish and add mango chunks, another layer of soaked bread slices, and mango chunks, and top it with whipped cream .Top it with mango chunks, mango jelly.
5 .
Add mint leaves Easy Mango Dessert is ready.
DIRECTIONS
اگر آپ مزیدار اور آسان ریسپیز ڈھونڈ رہے ہیں تو آپ کو کہیں اور جانے کی ضرورت نہیں۔ سوپر شیف آپ کو مختلف اور آسان ریسپیز فراہم کرتا ہے جو کہ باآسانی بنائی جا سکتی ہیں۔ آزمودہ ریسپیز جو کہ ہر کھانے والے کی پسند بنے۔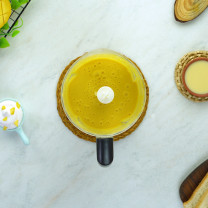 1 .
ایک بلینڈر میں آم ،دودھ، کنڈینس ملک ڈال کر اچھی طرح بلینڈ کرکی پیوری بنا لیں۔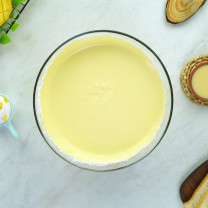 2 .
اب باؤل میں وہپنگ کریم ڈال اس وقت تک پھینٹیں جب تک اچھی طرح وہپ نہ ہو جائے اب اس میں سے کچھ کریم بعد میں استعمال کے لیے محفوظ کریں پھر اس میں مینگو پیوری ڈال کر اچھی طرح مکس کریں۔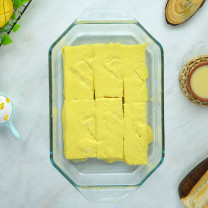 3 .
پھربریڈ سلائسز کے کنارے کاٹ کراسے آم کے آمیزے میں ڈبو دیں۔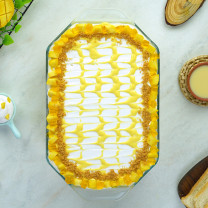 4 .
اب سرونگ ڈش میں آم کے ٹکڑے، بھیگیوئی ہوئی روٹی کے ٹکڑوں کی ایک تہہ، اور آم کے ٹکڑوں کوڈال کر وہپڈ کریم ڈالیں۔
5 .
پھرپودینے کے پتے ڈالیں۔ایزی مینگو ڈیزرٹ تیار ہے۔