Masala Pasta with Fiery Fingers Recipe by SooperChef
Masala Pasta with Fiery Fingers Recipe by SooperChef
Masala Pasta with K&N's Fiery Fingers makes up one delicious combination. The cheesy and saucy bite of this Masala Pasta will satisfy your taste buds. Try out this Cheesy Masala Pasta and share your feedback with us.
Ingredients
Ingredients for Masala Pasta with Fiery Fingers
DIRECTIONS
If you are looking for some delicious recipes which are easy to make then look no further. SooperChef gives you a variety of recipes with easy step by step procedures which makes it easy to follow. Tried and tested recipes which every foodie will love to try.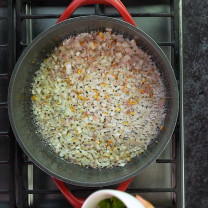 1 .
Heat oil in a pan and add cumin seeds and cook for a minute. Add garlic and saute for few seconds. Add onions and cook until translucent.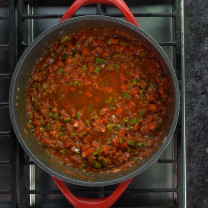 2 .
Add tomatoes and capsicum and cook further for two minutes. Now add tomato puree, tomato paste, ketchup, and sugar. Cook for 2-3 mins.Add salt, red chilli powder, red chilli flakes, chaat masala, cumin powder and garam masala and stir properly.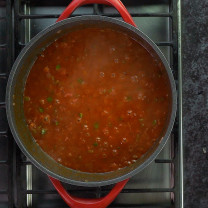 3 .
Add water, K&N's Stok and cook until it dissolves.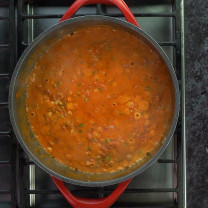 4 .
Now add cream and cook for a minute.Add boiled pasta and give it a good stir.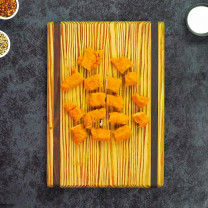 5 .
Fry K&N's Fiery Fingers as per instructions on the pack. Once cooked, cut it into halves.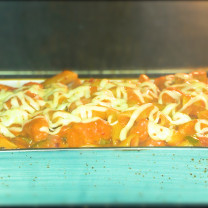 6 .
Add K&N's Fiery Fingers and mix.Take out Masala pasta with Fiery Fingers in a dish. Add mozzarella cheese on top and bake it for 2-3 minutes in a preheated oven at 160°C.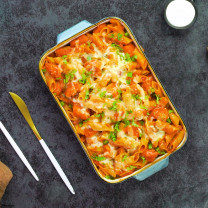 7 .
Masala Pasta is ready.Top it with chopped coriander leaves and serve.
DIRECTIONS
اگر آپ مزیدار اور آسان ریسپیز ڈھونڈ رہے ہیں تو آپ کو کہیں اور جانے کی ضرورت نہیں۔ سوپر شیف آپ کو مختلف اور آسان ریسپیز فراہم کرتا ہے جو کہ باآسانی بنائی جا سکتی ہیں۔ آزمودہ ریسپیز جو کہ ہر کھانے والے کی پسند بنے۔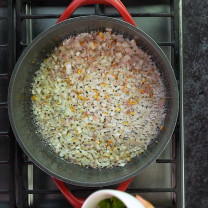 1 .
مصالحہ پاستا ودفائیری فنگرز بنانے کے لئے ایک پین میں کھانے کا تیل گرم کریں اور زیرہ ڈال کر ایک منٹ تک پکائیں پھراس میں لہسن ڈال کر چند سیکنڈ کے لیے بھونیں پھر پیاز ڈال کر رنگ ہلکہ ہونے تک پکائیں۔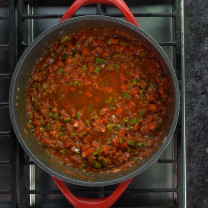 2 .
اب اس میں ٹماٹر اور شملہ مرچ ڈال کر مزید دو منٹ تک پکائیں پھر اس میں ٹماٹرکی پیوری، ٹماٹرکا پیسٹ کیچپ اور چینی ڈال کر دو سے تین منٹ تک پکائیں اب اس میں نمک، لال مرچ پاؤڈر، کُٹی لال مرچیں، چاٹ مصالحہ، زیرہ پاؤڈر اور گر م مصالحہ ڈال کر اچھی طرح مکس کریں۔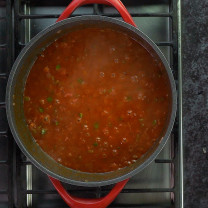 3 .
پھر اس میں پانی اورK&N's سٹاک ڈال کر اس وقت تک پکائیں جب تک یہ اچھی طرح پک نہ جائے۔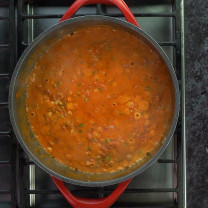 4 .
اب اس میں کریم ڈال کر ایک منٹ تک پکائیں پھر اس میں ابلا ہوا پاستا ڈال کر اور اچھی طرح مکس کریں۔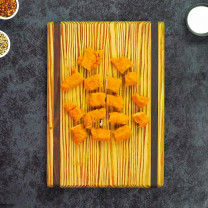 5 .
پھرپیک پر دی گئی ہدایات کے مطابق K&N فائیری فنگرز کوپیک پر دی گئی ہدایات کے مطابق فرائی کریں اورپک جانے کے بعد اسے آدھے حصے میں کاٹ لیں۔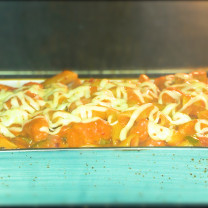 6 .
K&N فائیری فنگرز کو تیار مکسچر میں ڈال کر مکس کریں اورایک ڈش میں مصالحہ پاستا فائری فنگرز کے ساتھ نکال کراوپرسے موزاریلاچیز ڈالیں اور اسے پہلے سے گرم اوون میں ایک سو ساٹھ ڈگری سینٹی گریڈ پر دو سے تین منٹ تک بیک کریں۔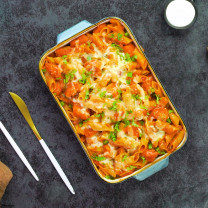 7 .
مصالحہ پاستا ودفائیری فنگرز۔ اس کے اوپر کٹے ہوئے ہرا دھنیا ڈال کر سرو کریں۔