Matka Lasagna Recipe
Easy and delicious homemade Lasagna in a clay pot is one unique and scrumptious recipe. Watch this step-by-step recipe to make this mouthwatering and cheesy Matka Lasagna and share your feedback with us.
Ingredients
Ingredients for Boiled Lasagna Sheet:
Ingredients for Keema Preparation:
Ingredients for White Sauce:
Ingredients for Assembling:
DIRECTIONS
If you are looking for some delicious recipes which are easy to make then look no further. SooperChef gives you a variety of recipes with easy step by step procedures which makes it easy to follow. Tried and tested recipes which every foodie will love to try.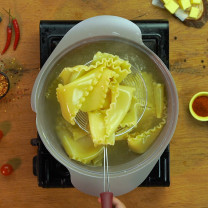 1 .
In a pot heat water and add oil and salt. Bring it to a boil. Add lasagna sheet and boil until 80% done. Strain and set aside.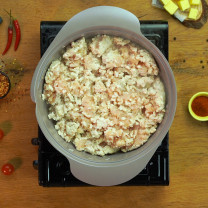 2 .
In a pot heat oil and add garlic. Cook for a min. Add onion and cook for another min. Add chicken mince and cook until chicken changes color.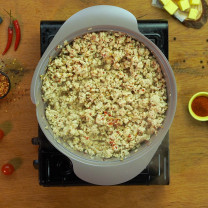 3 .
Add salt, white pepper powder, black pepper powder, chicken powder, red chili flakes and cook for 2-3 mins.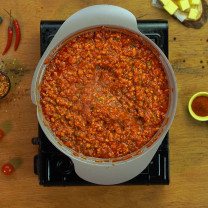 4 .
Add tomato paste, ketchup, water and cook until mince is fully done. Add capsicum, tomatoes, mixed herbs and cook for 2-3 mins. Your chicken mince is ready. Set aside.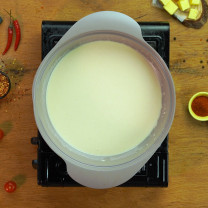 5 .
In a pot heat butter, add flour and cook until fragrant and no lumps remain. Add milk and cook until starts to thicken.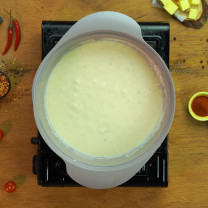 6 .
Add white pepper powder, salt and mix it well. Add milk again if the consistency thickens than desired. Mix it well and set aside.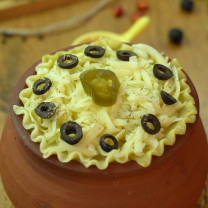 7 .
In a clay pot add layers of white sauce, boiled lasagna sheets, prepared keema, mozzarella & cheddar cheese and lastly top with black olives, jalapenos and mixed herbs.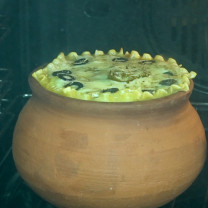 8 .
Now bake them in a preheated oven at 180°C for 10-15 mins.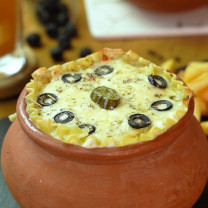 9 .
Your Matka Lasagna is ready. Serve and enjoy.
DIRECTIONS
اگر آپ مزیدار اور آسان ریسپیز ڈھونڈ رہے ہیں تو آپ کو کہیں اور جانے کی ضرورت نہیں۔ سوپر شیف آپ کو مختلف اور آسان ریسپیز فراہم کرتا ہے جو کہ باآسانی بنائی جا سکتی ہیں۔ آزمودہ ریسپیز جو کہ ہر کھانے والے کی پسند بنے۔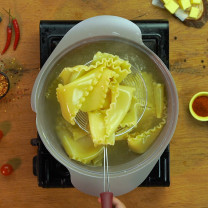 1 .
ابلی ہوئی لزانیہ شیٹس بنانے کے لئے ایک برتن میں پانی گرم کرکے اس میں کھانے کا تیل اور نمک ڈال کر ابلنے دیں۔اب اس میں لزانیہ شیٹس ڈال کر اسی فیصد پکنے تک ابال لیں اورچھان کر سائیڈ پر رکھ دیں۔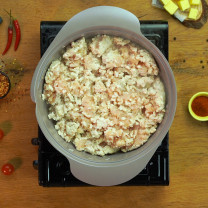 2 .
قیمہ بنانے کے لئے ایک برتن میں کھانے کا تیل گرم کرکے اس میں لہسن ڈال کر ایک منٹ تک پکائیں۔ اب اس میں پیاز ڈال کر ایک منٹ تک پکائیں۔ پھر اس میں چکنقیمہ ڈال کر ڈال کر چکن کا رنگ تبدیل ہونے تک پکائیں۔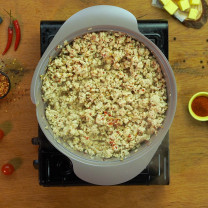 3 .
اب اس میں نمک، سفید مرچ پاؤڈر، کالی مرچ پاؤڈر، چکن پاؤڈر اور کٹی لال مرچیں ڈال کر دو سے تین منٹ تک پکائیں۔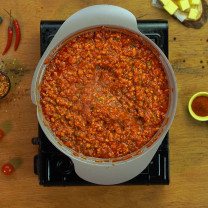 4 .
پھر اس میں ٹماٹر کا پیسٹ، کیچپ اور پانی ڈال کر قیمہ پکنے تک پکائیں۔اب اس میں شملہ مرچ، ٹماٹر اور مکس ہربز ڈال کر دو سے تین منٹ تک پکائیں۔ چکن قیمہ تیار ہے۔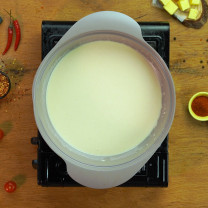 5 .
وائٹ سوس بنانے کے لئے ایک برتن میں مکھن گرم کرکے اس میں میدہ ڈال کر خوشبو دار ہونے تک پکائیں۔ اب اس میں دودھڈال کر گاڑھا ہونے تک پکائیں۔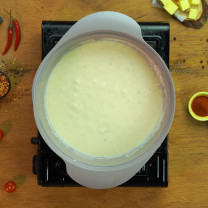 6 .
پھر اس میں سفید مرچ پاؤڈر اورنمک ڈال کر اچھی طرح مکس کریں کرکے سائیڈ پر رکھ دیں۔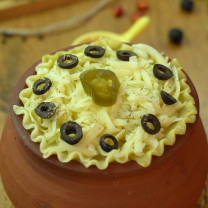 7 .
اسمبلنگ کے لئے مٹی کے برتن میں وائٹ سوس، ابلی ہوئی لزانیہ شیٹس، تیارقیمہ، موزریلا اور چیڈرچیز کی تہہ لگا کر اس پرکالازیتون، جیلپینو اور مکس ہربز ڈالیں۔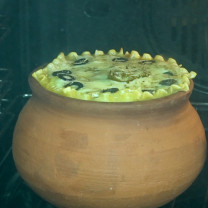 8 .
اب پہلے سے گرم اوون میں ایک سو اسی کے درجہ حرارت پر دس سے پندرہ منٹ تک بیک کریں۔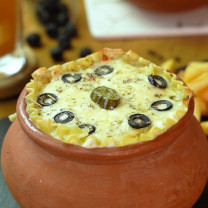 9 .
مزیدار مٹکا لزانیہ تیار ہے۔