Sheer Khurma Recipe by SooperChef
Sheer Khurma Recipe by SooperChef
Eid delight in a bowl! Indulge in the divine flavors of Sheer Khurma—rich vermicelli pudding cooked in sweetened milk, adorned with nuts and dried fruits. A traditional favorite, this Eid-special recipe is sure to captivate taste buds and create unforgettable memories. Experience sheer bliss with every spoonful. Eid Mubarak!
Ingredients
Ingredients for Roasted Nuts
Ingredients for Roasted Vermicelli
DIRECTIONS
If you are looking for some delicious recipes which are easy to make then look no further. SooperChef gives you a variety of recipes with easy step by step procedures which makes it easy to follow. Tried and tested recipes which every foodie will love to try.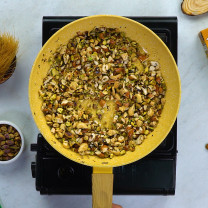 1 .
In a preheated pan add ghee, almonds, cashew nuts, pistachios Roast them for 1-2 mins. set aside.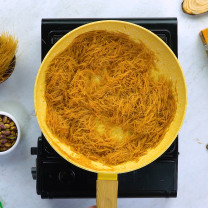 2 .
Now in a preheated pan add ghee and vermicelli. Roast it for 2-3 mins or until color changes. Set aside.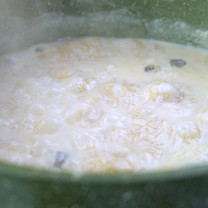 3 .
Now in a preheated pot add milk and add sugar and cook until sugar melts. Then add roasted vermicelli, and dry dates and cook until starts to thicken.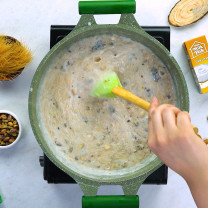 4 .
Now add khoya, roasted nuts, and cook for 3-4 mins.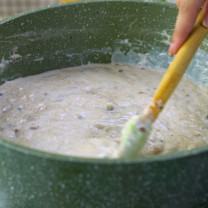 5 .
Turn off flame and add NESTLÉ MILKPAK Dairy Cream and mix it well.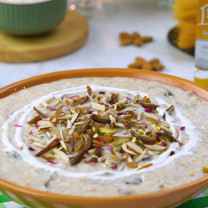 6 .
Garnish it with almonds, pistachios, dry dates, rose petals, NESTLÉ MILKPAK Dairy Cream and serve. Your Creamy Sheer Khurma is ready.
DIRECTIONS
اگر آپ مزیدار اور آسان ریسپیز ڈھونڈ رہے ہیں تو آپ کو کہیں اور جانے کی ضرورت نہیں۔ سوپر شیف آپ کو مختلف اور آسان ریسپیز فراہم کرتا ہے جو کہ باآسانی بنائی جا سکتی ہیں۔ آزمودہ ریسپیز جو کہ ہر کھانے والے کی پسند بنے۔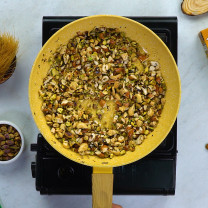 1 .
بھنے ہوئے خشک میوہ جات بنانے کے لئے پہلے سے گرم پین میں گھی، بادام، کاجو،اور پستے ڈال کرایک سے دومنٹ تک بھون لیں۔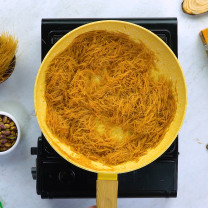 2 .
بھنی ہوئی سیویاں بنانے کے لئے پہلے سے گرم پین میں گھی اورسیویاں ڈال کر اسے دو سے تین منٹ تک یا رنگ بدلنے تک بھونیں۔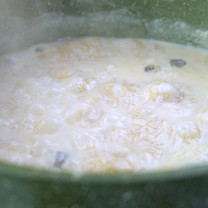 3 .
کریمی شیر خورمہ بنانے کے لئے پہلے سے گرم کیے ہوئے برتن میں دودھ اورچینی ڈالیں اوراسے چینی کے گھلنے تک پکائیں پھراس میں بھنی ہوئی سیویاں اور خشک کھجور ڈال کر گاڑھا ہونے تک پکائیں۔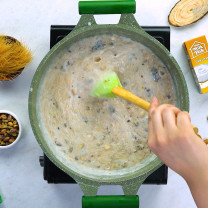 4 .
اب اس میں کھویا، بھنے ہوئے خشک میوہ جات ڈال کرتین سے چارمنٹ تک پکائیں۔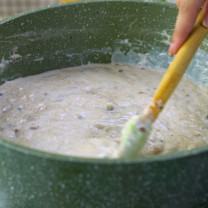 5 .
پھرچولہے سے ہٹا کرنیسلے ملک پیک ڈیری کریم ڈالیں اور اچھی طرح مکس کرلیں۔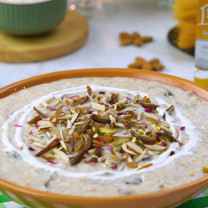 6 .
اب اسے بادام، پستے، خشک کھجور، گلاب کی پنکھڑیاں، نیسلے ملک پیک ڈیری کریم سے گارنش کریں اور سرو کریں۔کریمی شیر خورمہ تیار ہے۔