Tawa Chicken Paratha Roll Recipe by SooperChef
Tawa Chicken Paratha Roll Recipe by SooperChef
Learn to make delicious Tawa Chicken Paratha Roll at home. This step-by-step and treat Yourself to a Tawa Chicken Paratha Roll Fiesta. Share your feedback in the comments below.
Ingredients
Ingredients for Paratha dough
Ingredients for Chicken marination
Ingredients for Tawa Chicken
Ingredients for Yogurt dip
DIRECTIONS
If you are looking for some delicious recipes which are easy to make then look no further. SooperChef gives you a variety of recipes with easy step by step procedures which makes it easy to follow. Tried and tested recipes which every foodie will love to try.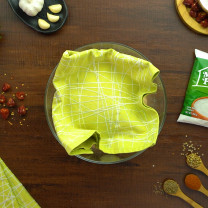 1 .
In a bowl add white wheat flour, ghee, salt, and water and knead a smooth dough. Rest for 10-15 minutes.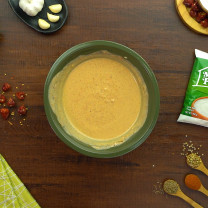 2 .
In a bowl add Nestlé Milkpak yogurt, ginger garlic paste, red chili powder, paprika powder, salt, coriander powder, cumin powder, hot sauce, chaat masala, red chili flakes, and lemon juice, and mix it well.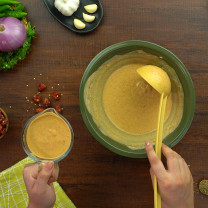 3 .
Reserve 1 cup of marinade and set aside.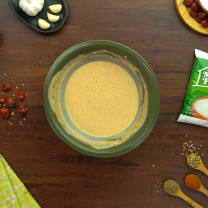 4 .
In the remaining marinade add Nestle Milkpak full cream milk, and give it a good mix.
5 .
Add chicken fillets to the marinade mix well and rest for half an hour.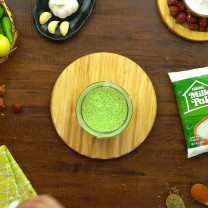 6 .
In a bowl add coriander, mint, green chilies, salt, and yogurt blend it well and the yogurt dip is ready.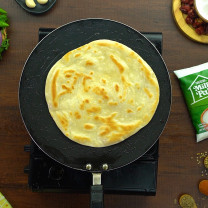 7 .
Take the prepared dough and divide it into 8 equal parts. Make parathas and cook each side for a minute. Direction for Tawa Chicken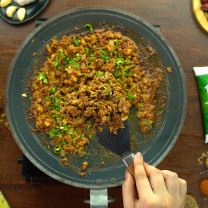 8 .
Take a tawa pan add oil add marinated chicken fillets cook for 1 minute from both sides chop them with scrapers by adding preserved marination mix well add chopped onion, tomato, and green chilies, green coriander, and cook for 3-4 minutes.Tawa chicken is ready.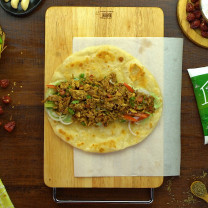 9 .
Spread yogurt dip on paratha add some veggies, (cucumber, onion, tomato) now add cooked tawa chicken.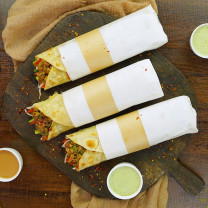 10 .
Make it a paratha roll shape and your Tawa Chicken Paratha Roll is ready.Serve it with yogurt dip.
DIRECTIONS
اگر آپ مزیدار اور آسان ریسپیز ڈھونڈ رہے ہیں تو آپ کو کہیں اور جانے کی ضرورت نہیں۔ سوپر شیف آپ کو مختلف اور آسان ریسپیز فراہم کرتا ہے جو کہ باآسانی بنائی جا سکتی ہیں۔ آزمودہ ریسپیز جو کہ ہر کھانے والے کی پسند بنے۔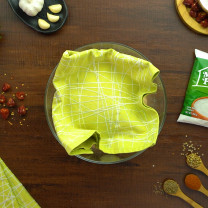 1 .
پراٹھے کی ڈو بنانے کے لئے ایک باؤل میں سفید گندم کا آٹا، گھی، نمک اور پانی ڈال کر نرم ڈو گوندھ لیں اور دس سے پندرہ منٹ کے لئے۔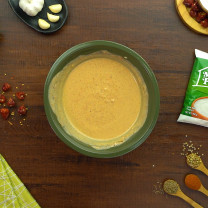 2 .
چکن میرینیشن کے لیے ایک باؤل میں نیسلے ملک پیک دہی، ادرک لہسن کا پیسٹ، لال مرچ پاؤڈر، پیپریکا پاؤڈر، نمک، دھنیا پاؤڈر، زیرہ پاؤڈر، ہاٹ سوس، چاٹ مصالحہ،کُٹی لال مرچیں، اور لیموں کا رس ڈال کر اچھی طرح مکس کریں۔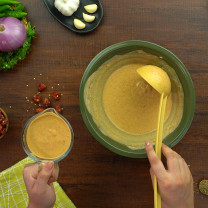 3 .
اب ایک کپ میرینیڈ محفوظ کرلیں اور ایک طرف رکھ دیں۔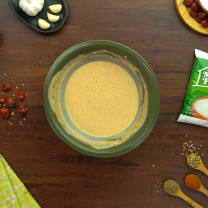 4 .
پھربقیہ میرینیڈ میں نیسلے ملک پیک فل کریم دودھ ڈالیں، اور اسے اچھی طرح مکس کریں۔
5 .
اب اس میرینیڈ سے چکن فلیٹ ڈال کر اچھی طرح مکس کریں اور آدھے گھنٹے کے لیے رکھ دیں۔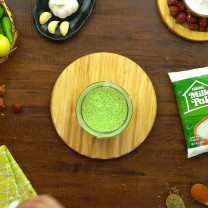 6 .
دہی کی چٹنی بنانے کے لئیایک باؤل میں دھنیا، پودینہ، ہری مرچ، نمک، اور دہی ڈال کر اچھی طرح بلینڈ کریں اور دہی کی چٹنی تیار ہے۔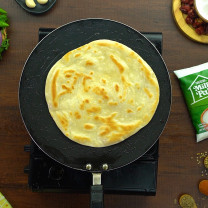 7 .
پراٹھا رول بنانے کے لئیتیارڈو کو آٹھ برابر حصوں میں تقسیم کریں اور پراٹھے بناکر ہر طرف ایک منٹ تک پکالیں۔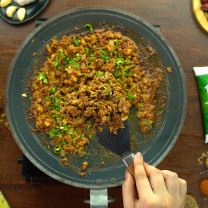 8 .
توا چکن بنانے کے لئے ایک توے پرکھانے کا تیل ڈال کر میرینیٹ کیے ہویچکن فلے ڈال کر دونوں طرف سے ایکمنٹ تک پکائیں پھر محفوظ کیا ہوامیرینیشن ڈال کرچھی طرح مکس کریں پھر اس میں کٹی ہوئی پیاز، ٹماٹر، ہری مرچیں،اورہرا دھنیا ڈال کر تین سے چارمنٹ تک پکائیں۔ توا چکن تیار ہے۔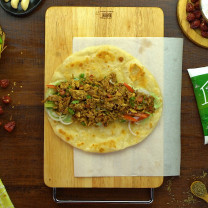 9 .
اسیمبلنگ کے لئے تیارپراٹھے پر دہی کی چٹنی پھیلا کر کھیرا، پیاز، ٹماٹراورتوا چکن ڈالیں۔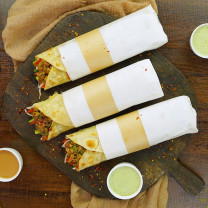 10 .
پھر اس کا پراٹھا رول بنا لیں توا چکن پراٹھا رول تیار ہے۔ اسے دہی کی چٹنی کے ساتھ سرو کریں۔